Join our GiveHope Community
Our GiveHope community are a group of compassionate people just like you who are dedicated to changing lives for our Heart Heroes by donating regularly.
Heart Heroes work with children and their families living with heart conditions. We aim to provide services for these children, to help them meet others who are in similar situations and allow their family to talk to other families going through related experiences.
 At Heart Heroes we:
Support children with heart diseases aged 0 – 16.

Organise events and provide socialising opportunities for children to attend.

We aim to introduce families with similar experiences so that they can support each other.
PRESS RELEASE… A charity which supports families of children with serious heart conditions has set up a new hub so it can help people in
Read More »
🏖Looking for something to help keep the kids entertained this summer holidays? 💕 Ann is currently fundraising on behalf of the us. 'Heart Heroes who
Read More »
You can make a huge difference to a child living with a life limiting heart condition by joining our GiveHope community.
Check our Twitter feed here
Did you know that you can play the Cheltenham Lottery for as little as £1 a ticket to win up to £25,000 whilst supporting a local charity like Heart Heroes?

Support Heart Heroes by entering now at https://t.co/oqJtdHGRM9

#Cheltenham #CheltenhamLottery #HeartHeroes https://t.co/pwHtuTlHWR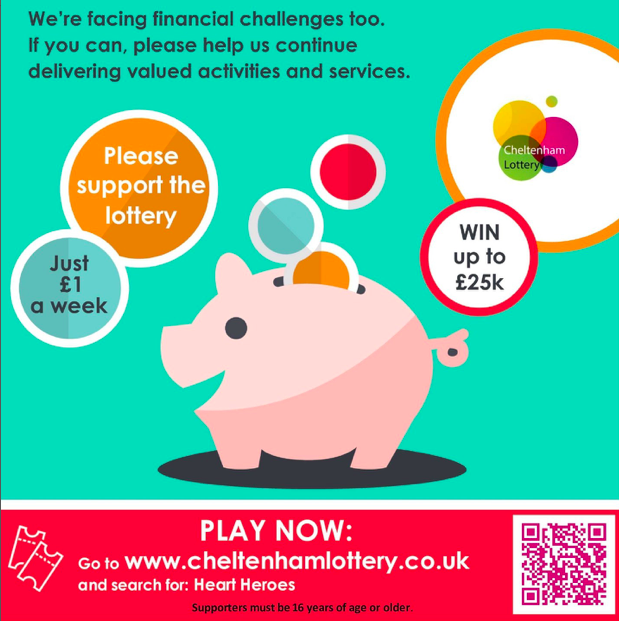 Meet Kelly, the founder of Heart Heroes
Find out why she felt there was an important need for a charity such as Heart Heroes to exist and how she felt she could make a difference.
We know that having a child suffering from heart disease can take its toll on a family; it is both physically and emotionally draining.
At Heart Heroes, we want to assist in elevating some of that stress by providing access to events where the families of our little heroes can see their children enjoy themselves and meet children that they can relate to, whilst having the opportunity to share their own experiences and receive emotional support from other carers that are going through the same journey.
We find this emotional support is vital for the families in helping them cope through difficult times.
Who we support and why…
Meet Zoe (Heart Heroes Trustee) talking about who we support and why Heart Heroes work is crucial for families with a child suffering from heart conditions.
I cannot thank Heart Heroes enough. They are a fantastic Charity supporting so many local families like ours. They go above and beyond for us all. My youngest child has a heart condition which is a daily worry. Meeting other families that understand this makes a huge difference! Heart Heroes do fantastic events for the children along with events to support the parents! Thank you Heart Heroes.
Joshua has received his Abilities in Me - Feeding tube edition from Heart Heroes. Great to make light hearted reading with such a strong message. He really is proud of his Tubie when he realises other children are the same. Thanks again Kelly for supporting us in yet another fantastic way.
Fantastic charity, always available to help and to just be there to listen if we need to talk. They have done so much for Naayt and us as a family...cannot thank them enough.
16 years ago Jasmine and Olivia were born unexpectedly with different heart conditions - Olivia had open heart surgery when she was 3 weeks old, weighing less than 5lb (they were born at 31weeks). Jasmine was medicated for a number of years. A year ago we found Heart Heroes who are THE most amazing charity supporting families in so many ways - but honestly - they're awesome!
Ever thought about fundraising for Heart Heroes?
Fundraising for Heart Heroes is extremely important, as not only does it enable us to use that money to help our heroes, it also raises awareness. 
See what Kelly (Heart Heroes Founder)  has to say about fundraising for Heart Heroes and how you can help.
Join our GiveHope Community
Our GiveHope community are a group of compassionate people just like you who are dedicated to changing lives for our Heart Heroes by donating regularly.